We are here for all your Travel needs to Belgium
Christmas Markets Extravaganza 2016
Dutch Waterways | Netherlands / Belgium's Waterways | Belgium, Europe
4 days from
£349
per person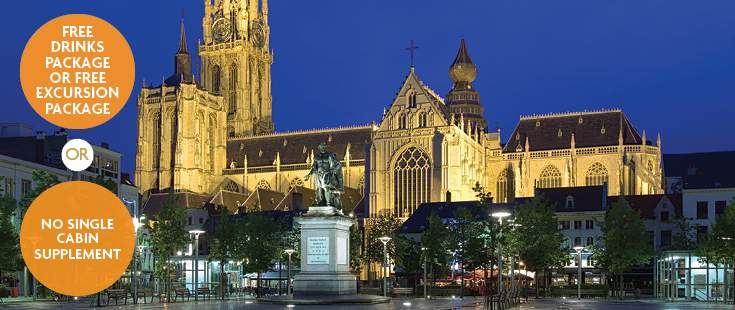 Note that there may be small differences between our general Itinerary for this cruise and a specific departure.
Christmas Markets Extravaganza Itinerary
In the run up to Christmas the towns and cities of Belgium are overrun with festivities as everyone begins to relax and enjoy this magical time of year. We visit some of the best destinations, plus we include an excursion to the Dutch town of Valkenburg which hosts a fabulous market in the underground caves. Our ship is never far away, so when the shopping's complete, you can pause to enjoy the sights and sounds of Christmas.
Day 1: UK – Delft – Rotterdam
We travel to the Dutch town of Delft and have a little free time to explore before joining our ship in Rotterdam and cruising towards Antwerp.
Day 2: Antwerp Christmas Market
We arrive in Antwerp around breakfast time. From here you can join our optional excursion visiting the Bruges Christmas Market, which offers an excellent choice of festive gifts and activities. Alternatively you can enjoy a full day in Antwerp and take in the sights before the city's own Christmas market comes to life. Later this evening we cruise towards Hasselt.
Day 3: Valkenburg Christmas Market & Hasselt Winterland
Wake up in Hasselt and join our included excursion visiting the unique velvet caves in the Dutch town of Valkenburg. We return to Hasselt where you can browse an array of chalets selling everything from unique gifts to delicious treats. In the early evening we begin cruising to Brussels, the capital of Belgium.
Day 4: Brussels – UK
Shortly after arriving in Brussels we bid farewell to our Captain and his crew and disembark our ship. There's some free time for you to look around and enjoy the atmosphere before we set off on the return journey.
Plenty of time to browse the Antwerp Christmas market

Included excursion to the unique Christmas market held in the velvet caves of Valkenburg

Explore the cosy winter village of Hasselt

The opportunity to visit Bruges Christmas Market on our optional excursion

Pick up exclusive gifts for friends and family

Enjoy the spirit of Christmas

A little free time to explore the porcelain town of Deft

Length: 4 days
From: Delft
Ends: Brussels
Travel options available:
4 days from
£349
per person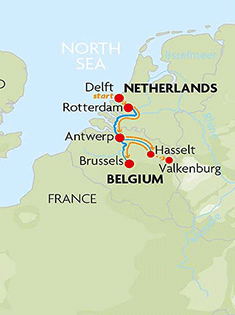 Included in the Price
Welcome drink, Captain's get-together and party night

En suite cabin accommodation aboard the ms Serenity

Full board during the cruise

Early risers and mid morning tea/coffee

Entertainment on every night of your cruise

Visits to Delft & Brussels

Visits to Antwerp Christmas Market, Valkenburg Christmas Market & Hasselt Winterland

Services of our experienced and friendly Cruise Director and Cruise Manager

We offer a number of flexible travel options for you to join your cruise, whether you want to travel to the port of departure or directly to the ship. Please see below: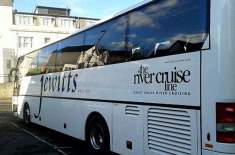 Coach via Dover, Hull or Newcastle
On many of our cruises you can take advantage of our convenient and FREE regional coach departures aboard our modern executive coaches from a town or city near you to the port of departure and onwards to meet the ship.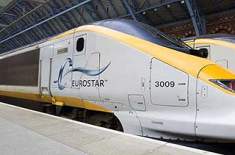 Eurostar from London St Pancras
Enjoy the benefits of rail travel – boarding at London St Pancras International, you will be whisked effortlessly along by Eurostar whilst relaxing in your reserved seat. You have the freedom to stretch your legs whenever the mood takes you and purchase drinks and snacks from the buffet carriage.
On selected cruises there are rail options included in the price, whereas on other cruises it is offered alongside our coach travel option – please note a supplement will apply and transfers to the ship are not included except for cruises certain cruises.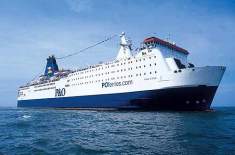 Ferry crossing at Dover, Hull or Newcastle
When you travel by coach or car, you will join a ferry at Dover, Hull or Newcastle, depending on your chosen cruise, and cross over to Europe. Our coach will then take you to meet our ship at the embarkation point as shown in the cruise itinerary. Hull and Newcastle crossings take place overnight, adding 2 days to the cruise duration.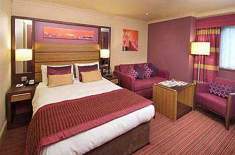 Overnight hotel in Dover or Ashford
Travel at your own pace, in the comfort of your own vehicle and stay overnight at Dover or Ashford, in accommodation close to the port of departure and be collected/returned by our coach. Prices start from £49.50 per person per night on a bed and breakfast basis and includes parking for one vehicle for the duration of your cruise.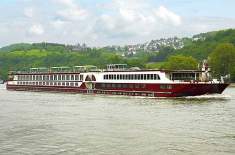 Join at the Ship
You are of course free to make your own way to and from the ship by booking your flight/ferry or train tickets independently – a small reduction applies. With your joining instructions we will send you a map of where the ship is berthed and also a boarding time.
Enhance your holiday experience with a range of optional and included excursions that allow you to discover the history of our ports of call, experience the tradition of local regions and explore further afield. They're the perfect complement to your cruise itinerary, but they are subject to availability so we recommend you book early!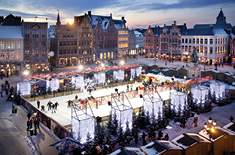 NEW - Bruges Christmas Market

Included
The sparkling canals and cobbled streets of Bruges become all the more magical in the run up to Christmas, when they are overrun with festivities. Market Square is at the heart of the activity with a large ice rink and a fabulous market where you can buy all manner of gifts. Bruges is also renowned for its chocolate shops, many of which have fantastic window displays that add to the festive atmosphere

.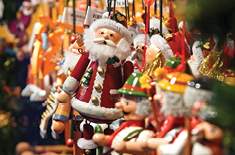 NEW - Valkenburg Christmas Market
Included
In this charming hillside town, built around the romantic ruins of a castle, a unique Christmas market is held in the labyrinth of caves that run beneath it known as the 'velvet caves'. These ancient passageways were only opened in 1937 and originally enabled the knights that occupied the castle to vanish in times of war and attack the enemy from behind. The soft marlstone walls display mysterious carvings, inscriptions and sculptures which will be illuminated with festive light, with market stalls selling unique gifts, exquisitely made handicrafts and culinary delights.
From £349.00 per person *
* Price will vary depending on availability at time of booking. We can arrange from various airports around UK and offer with a choice of Airlines.
We also can offer additional nights pre/ or post cruise and also transfers between Ship and Hotel , ship and airport or coach/ rail station.


Rail, Coach, Cruise only option supplied by the river cruise line

Air and Cruise & Stay options offered by C2C Cruises using ATOL 5279
Belgium Christmas Markets,Christmas, towns and cities of Belgium,festivities, magical time of year, four beautiful cities, Christmas market, unique gifts for all the family,seasonal delights, Brussels Christmas Market,travel to Brussels,visit the Christmas market, ms serenity,cruise towards Antwerp, Bruges Christmas Market, Antwerp Christmas Market, Antwerp, join our excursion, visiting Bruges, Christmas Market,excellent choice of festive gifts, full day in Antwerp, take in the sights, city's own Christmas market, cruise towards Ghent, Ghent Christmas Market, city of Ghent, visit Ypres, Cloth Hall and Menin Gate, Christmas market in Ghent, cruising, Rotterdam, Amsterdam, UK, farewell to our Captain, travel to Amsterdam, Brussels, Amsterdam, Travel options, Coach via Dover, Hull, Newcastle, Eurostar from London St Pancras,
Ferry crossing at Dover, Hull or Newcastle, Overnight hotel in Dover or Ashford, Join at the Ship, 4 days from £349 per person,
Executive return coach travel, departure point near you, Return ferry crossing, Welcome drink, Captain's get-together, party night,
En suite cabin, accommodation, aboard the ms Serenity, Full board during your cruise, mid morning tea/coffee, Entertainment every night,your cruise,Visits to Brussels Christmas Market, Bruges Christmas Market, Antwerp Christmas Market, Ghent Christmas Market, Visit to Amsterdam, Services,experienced and friendly Cruise Director, Cruise Manager, Four Christmas markets,four days, exclusive gifts, friends and family,magical festive atmosphere, visit the pretty Belgian town of Ypres,
free time, explore the vibrant city, Amsterdam,Coach via Dover, coach via Hull or Newcastle, cruises, FREE regional coach departures, modern executive coaches, town or city near you,port of departure,meet the ship, Eurostar - Belgium Travel Service,
Eurostar from London St Pancras, Enjoy the benefits of rail travel, boarding at London St Pancras International, whisked effortlessly along by Eurostar, relax in your reserved seat, stretch your legs,buffet carriage, selected cruises,rail options,other cruises, it is our coach travel option, transfers to the ship are not included, certain cruises, Ferry Crossing - Belgium Travel Service, Ferry crossing at Newcastle, When you travel by coach or car, join a ferry at Hull,chosen cruise, cross over to Europe, coach will take you to meet the ship, embarkation point, cruise itinerary, Hull and Newcastle crossing,overnight, adding 2 days to the cruise duration, Hotel Overnight Pre Cruise - Belgium Travel Service,
Overnight hotel in Ashford, Travel at your own pace, in the comfort stay overnight at Ashford, accommodation close to the port, collected/returned by coach. Prices from £49.50 per person per night,bed and breakfast,includes parking for one vehicle for the duration of your cruise, Join at Ship - Belgium Travel Service, Join at the Ship, make your own way to and from the ship, booking your flight/ferry or train tickets independently, a reduction applies,joining instructions, map, ship is berthed, boarding time, Excursions,
holiday experience, range of optional and included excursions, discover the history,ports of call, experience the tradition of local regions, explore further afield,perfect complement, your cruise itinerary, subject to availability,recommend you book early, Bruges Christmas Market - Belgium Travel Service, - Brugges Christmas Market, sparkling canals,cobbled streets, Bruges,more magical in the run up to Christmas, festivities, Market Square,heart of the activity,large ice rink,fabulous market, buy all manner of gifts, Bruges is also renowned for its chocolate shops, fantastic window displays,festive atmosphere, Ypres - Belgium Travel Service, Ypres,Walk around Ypres, leper, Flemish inhabitants, pretty town , virtually destroyed, the First World War, Architectural gems, the Cloth Hall,St Martin's Cathedral,former glory,the Menin Gate, Memorial to the Missing, Departure 15 December, Coach, 6 Days,
From £499.00 per person , Ferry / Join at Port, 16 December,
Eurostar, 4 Days , From £549.00 per person, Join at Ship *,
From £349.00 per person *, Air - Fly from UK*, 4 Days * , Price will vary, depending on availability, time of booking, arrange from various airports, around UK, offer ,choice of Airlines, offer additional nights, pre/ or post cruise, transfers between Ship and Hotel , ship and airport or coach/ rail station, cruise and stay, rivercruiseline, rivercruiseline.com, diamond holidays, c2c cruises, c2ccruises.com, cruisemaker.net, coachholidaytravel.com, railholidaytravel.com

www.belgiumtravelservices.com / www.belgiumtravelservice.co.uk / www.belgiumtravelservices.co.uk