We are here for all your Travel needs to Belgium
Liege, Valkenburg & Aachen Christmas Markets
4 days from
£389
per person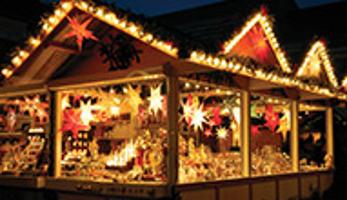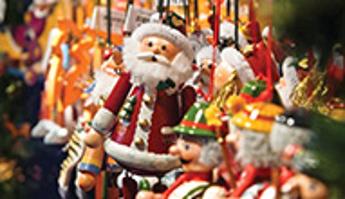 Note that there may be small differences between our general Itinerary for this break and a specific departure.
Enjoy a trio of Christmas markets as we visit the countries of Belgium, Germany and the Netherlands on this leisurely festive break. Liège Christmas Village has become the top festive event in Belgium, enticing visitors of all ages, whilst over in Germany the quaint spa town of Aachen is transformed into a paradise of festive lights and colours, and the Velvet Cave beneath the town of Valkenburg is a unique and magical location for a Christmas market. We have plenty of time to enjoy each of these, as well as a Christmas parade in Valkenburg, before rounding off with Disney's enchanted Ice Dreams Festival.
Itinerary
Day 1: Liège Christmas Village
We journey from London to Brussels by Eurostar and continue by rail to our hotel in Liège, before visiting the Christmas village. Set in the Place St Lambert and Place du Marche, you can browse all kinds of handcrafts and souvenirs as you wander around the pretty chalets. Be sure to pause and sample the local delicacies, including delicious waffles and smooth Galler chocolate which are both unique to Liège. There's also a range of Belgian beers to enjoy and the traditional tipple for this time of year – peket, which is the Belgian version of gin. It's a magical event with a subtle difference compared to its German and Alsatian neighbours.
Day 2: Aachen Christmas Markets
Today we travel by rail to the spa town of Aachen in Germany, where the streets and squares surrounding the cathedral are transformed into a festive paradise. The Aachen Market has a particularly friendly atmosphere, where locals and tourists enjoy the spirit of Christmas along with delicious wafts of potato fritters, sweet gingerbread and warming glühwein; plus there's a huge array of gifts and goodies that grace the wooden chalets and make the perfect stocking fillers.
Day 3: Valkenburg Christmas Markets & Parade
In the late morning our coach takes us to the charming hillside town of Valkenburg in the Netherlands, where we find a unique Christmas market in the labyrinth of caves that run beneath the town. The soft marlstone walls display mysterious carvings, inscriptions and sculptures which will be illuminated in festive light, with stalls selling unique gifts, exquisite handicrafts and culinary delights. At 7.00pm we enjoy a magical light parade of beautifully decorated floats and costumed dancers that pass through the centre of Valkenburg

.
Day 4: Disneyland® Paris Ice Dreams, Liège
This morning we visit the Disneyland® Paris Ice Dreams Festival in Liège, where dazzling ice decorations of Disney Characters offer the warmest of season's greetings amid its incredible fantasy of snow and ice. After some free time to enjoy the ice sculptures, we set off for the return journey to London. Disneyland Ice Dreams Liege information is correct at the time of writing.
Included in the Price
Return Eurostar from London to Brussels

Return rail to Liege
Three nights bed and breakfast accommodation in Liege
Visit to Liege Christmas Village
Visit to Aachen Christmas Market
Visit to Valkenburg Christmas Market
See the Valkenberg Christmas Parade
Visit to the Disneyland Ice Dreams Festival

Services of a Tour Manager
4 days from
£389
per person
Hotel
Ibis Lieges Centre Opera
Board Basis : Bed & Breakfast
Single Room Supplement : £90.00 per person
Excursions & Extras
Luggage concierge Service 1 case - £135.00 per case
Luggage concierge Service 2 Cases - £230.00
Eurostar from London St Pancras
Enjoy the benefits of rail travel – boarding at London St Pancras International, you will be whisked effortlessly along by Eurostar whilst relaxing in your reserved seat. You have the freedom to stretch your legs whenever the mood takes you and purchase drinks and snacks from the buffet carriage.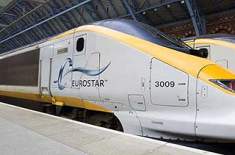 * Price may vary depending on availability at time of booking.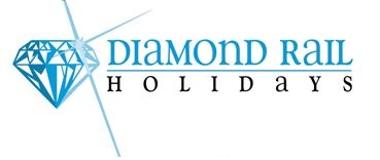 Belgium Christmas Markets,Christmas, towns and cities of Belgium,festivities, magical time of year, four beautiful cities, Christmas market, unique gifts for all the family,seasonal delights, Brussels Christmas Market,travel to Brussels,visit the Christmas market, ms serenity,cruise towards Antwerp, Bruges Christmas Market, Antwerp Christmas Market, Antwerp, join our excursion, visiting Bruges, Christmas Market,excellent choice of festive gifts, full day in Antwerp, take in the sights, city's own Christmas market, cruise towards Ghent, Ghent Christmas Market, city of Ghent, visit Ypres, Cloth Hall and Menin Gate, Christmas market in Ghent, cruising, Rotterdam, Amsterdam, UK, farewell to our Captain, travel to Amsterdam, Brussels, Amsterdam, Travel options, Coach via Dover, Hull, Newcastle, Eurostar from London St Pancras,
Ferry crossing at Dover, Hull or Newcastle, Overnight hotel in Dover or Ashford, Join at the Ship, 4 days from £349 per person,
Executive return coach travel, departure point near you, Return ferry crossing, Welcome drink, Captain's get-together, party night,
En suite cabin, accommodation, aboard the ms Serenity, Full board during your cruise, mid morning tea/coffee, Entertainment every night,your cruise,Visits to Brussels Christmas Market, Bruges Christmas Market, Antwerp Christmas Market, Ghent Christmas Market, Visit to Amsterdam, Services,experienced and friendly Cruise Director, Cruise Manager, Four Christmas markets,four days, exclusive gifts, friends and family,magical festive atmosphere, visit the pretty Belgian town of Ypres,
free time, explore the vibrant city, Amsterdam,Coach via Dover, coach via Hull or Newcastle, cruises, FREE regional coach departures, modern executive coaches, town or city near you,port of departure,meet the ship, Eurostar - Belgium Travel Service,
Eurostar from London St Pancras, Enjoy the benefits of rail travel, boarding at London St Pancras International, whisked effortlessly along by Eurostar, relax in your reserved seat, stretch your legs,buffet carriage, selected cruises,rail options,other cruises, it is our coach travel option, transfers to the ship are not included, certain cruises, Ferry Crossing - Belgium Travel Service, Ferry crossing at Newcastle, When you travel by coach or car, join a ferry at Hull,chosen cruise, cross over to Europe, coach will take you to meet the ship, embarkation point, cruise itinerary, Hull and Newcastle crossing,overnight, adding 2 days to the cruise duration, Hotel Overnight Pre Cruise - Belgium Travel Service,
Overnight hotel in Ashford, Travel at your own pace, in the comfort stay overnight at Ashford, accommodation close to the port, collected/returned by coach. Prices from £49.50 per person per night,bed and breakfast,includes parking for one vehicle for the duration of your cruise, Join at Ship - Belgium Travel Service, Join at the Ship, make your own way to and from the ship, booking your flight/ferry or train tickets independently, a reduction applies,joining instructions, map, ship is berthed, boarding time, Excursions,
holiday experience, range of optional and included excursions, discover the history,ports of call, experience the tradition of local regions, explore further afield,perfect complement, your cruise itinerary, subject to availability,recommend you book early, Bruges Christmas Market - Belgium Travel Service, - Brugges Christmas Market, sparkling canals,cobbled streets, Bruges,more magical in the run up to Christmas, festivities, Market Square,heart of the activity,large ice rink,fabulous market, buy all manner of gifts, Bruges is also renowned for its chocolate shops, fantastic window displays,festive atmosphere, Ypres - Belgium Travel Service, Ypres,Walk around Ypres, leper, Flemish inhabitants, pretty town , virtually destroyed, the First World War, Architectural gems, the Cloth Hall,St Martin's Cathedral,former glory,the Menin Gate, Memorial to the Missing, Departure 15 December, Coach, 6 Days,
From £499.00 per person , Ferry / Join at Port, 16 December,
Eurostar, 4 Days , From £549.00 per person, Join at Ship *,
From £349.00 per person *, Air - Fly from UK*, 4 Days * , Price will vary, depending on availability, time of booking, arrange from various airports, around UK, offer ,choice of Airlines, offer additional nights, pre/ or post cruise, transfers between Ship and Hotel , ship and airport or coach/ rail station, cruise and stay, rivercruiseline, rivercruiseline.com, diamond holidays, c2c cruises, c2ccruises.com, cruisemaker.net, coachholidaytravel.com, railholidaytravel.com

www.belgiumtravelservices.com / www.belgiumtravelservice.co.uk / www.belgiumtravelservices.co.uk / www.belgiantravel.co.uk /www.accessibleflanders.co.uk